Restoring the Earth this Earth Day 2021
22 April 2021
Louis Dreyfus Foundation has made significant strides to work towards a sustainable future that feeds the world and gives back to the earth. Particularly, LDF in partnership with French organizations PUR Projet and Inter Aide and in collaboration with Louis Dreyfus Company's (LDC) agronomists, has led highly commendable initiatives to restore the earth ecosystems and preserve natural resources.
Working with PUR Projet and LDC agronomists, LDF's projects have contributed to coffee ecosystems' restoration in Indonesia, Ethiopia and Uganda since 2014, 2015 and 2018 respectively. The joint collaboration aims to secure livelihoods by promoting sustainable agriculture among smallholder farmers. Furthermore, agroforestry training, introduction of improved cook stoves and community engagements including theater performances on the importance of trees have been implemented on the ground to restore the earth.
The LDF project run in partnership with Inter Aide in Ethiopia focuses on improving resilience and food security of smallholder farmers by adopting an innovative approach that combines fodder production and soil and water conservation. Fodder planted on anti-erosive structures and unproductive areas of the farm contributes to moisture and fertility conservation. The innovative fertility management practices including green manure production and legume association help to increase the resilience of smallholder farming families in the country's highlands.
In conversation with LDF partners for Earth Day 2021, here is what the representatives from PUR Projet Nadine Stueber, Program Officer and Philippe Redon, Regional Program Director from Inter Aide had to say about Restoring the Earth and encouraging results from our joint activities.
Nadine Stueber,
Program Officer, PUR Projet
Philippe Redon,
Regional Program Director, Inter Aide
How does the project(s) help to restore the ecosystem? What activities contribute to such restoration?

Nadine Stueber: "Every part of a tree helps restore the ecosystem. The leaves protect the soil from heavy rains and wind thereby reducing erosion whilst their decomposition enriches the soil. The roots help the soil absorb more water during heavy rains while preventing nitrates from being washed off and contaminating groundwater reserves. The soil structure is also stabilized by the tree's deep root system, helping to prevent landslides.
Through training on Good Agricultural Practices farmers learn how to produce coffee in a more sustainable way such as by planting nitrogen fixing cover crops (legumes), producing compost and collecting nutrient rich topsoil by digging trenches on hilly farms. This increases the fertility and biodiversity of the soil. Through improved cooking stoves, less wood is needed to cook which reduces the pressure on surrounding forests. Beyond this, many farmers plant timber trees that provide firewood through the agroforestry activity to reduce the need to cut down primary forests."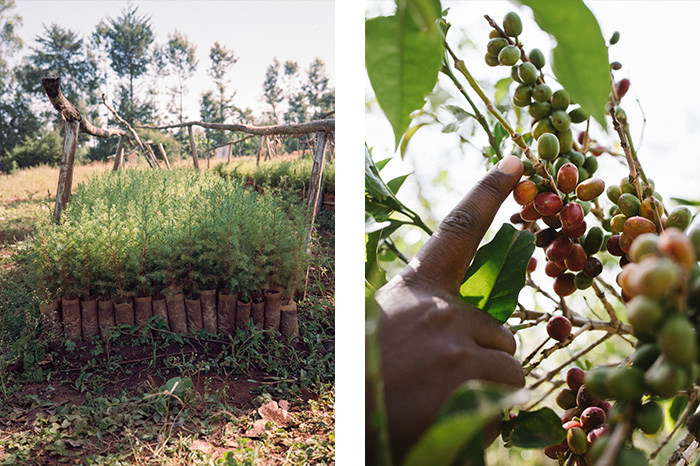 Philippe Redon: "The primary focus is to implement land conservation mechanisms at watershed level, which contributes to soil losses' reduction due to erosion and increases water infiltration. Those mechanisms even manage to reclaim highly degraded land abandoned for cultivation. Another area of attention is the creation of productive hedges that combine several benefits: protection against wind erosion, moisture conservation, diversification of species and nitrogen fixation thanks to legume plantation."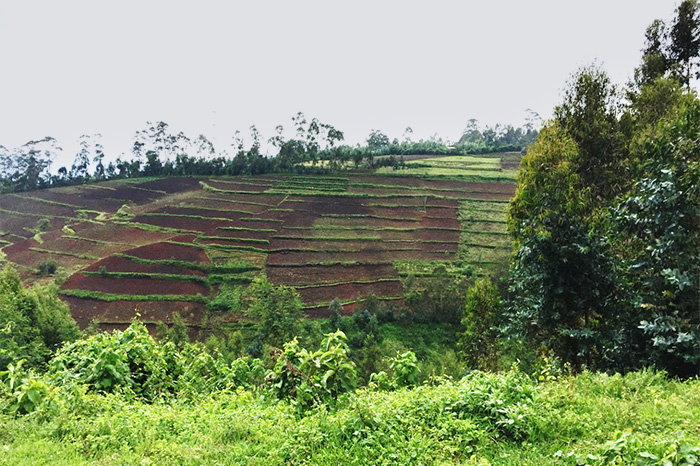 How does the project mitigate the effect of climate change?

Nadine Stueber: "Trees sequester carbon as they grow, which helps remove excessive CO2 from the atmosphere, but they also play a protective role. The ecosystem restoration work conducted via agroforestry methods, where trees are incorporated with coffee, not only helps to sequester carbon to mitigate climatic impacts, but also helps to create a cooling microclimate and regulate the water cycle to prevent floods. Good Agricultural Practices that avoid soil erosion such as cover crops have the potential to increase the level of soil organic carbon and reduce emissions. Additionally, by using improved cook stoves, less wood is burnt which means less CO2 is emitted."
Philippe Redon: "The project helps to mitigate the climate change thanks to the soil conservation activities and afforestation that both contribute to carbon sequestration. As a result, carbon is sequestered thanks to tree and fodder grasses plantations. Land conservation activities and legume associations also significantly increase the carbon of the soil. The project evaluation conducted by the International Center for Tropical Agriculture (ICAT) confirmed the high level of the carbon stock retained in farmers' plots once protected and showcased significant improvements over three years with 35,000 tons of CO2 potentially sequestered."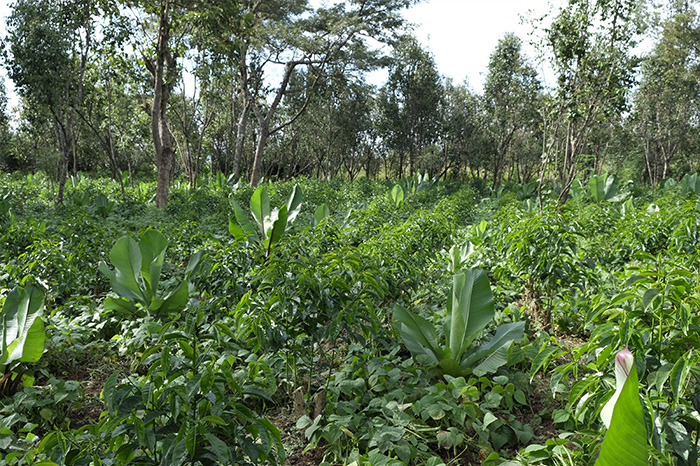 What are the tangible outcomes and impact of the project(s)? Could you please indicate these?

Nadine Stueber: "Since 2015, more than 900,000 trees have been planted with a little over 4,000 farmers and 13,729 farmers have received Good Agricultural Practices training in Indonesia, Uganda and Ethiopia. The 550 improved cooking stoves implemented in Ethiopia have reduced fuelwood consumption by 54% and allow women to save up to four hours per day as they spend less time looking for wood and can cook quicker. Besides these, beneficiaries can save up to 21% of their monthly income."
Philippe Redon: "Since the beginning, approximately 12,000 farmers have protected their land (with an average of more than 100 meters of anti-erosive structures per farmer), recovered 10% of surface, developed their production of fodder, improved the cash availability (the value of fodder produced is equivalent to 30% of the survival threshold) as well as their capacity to feed animals. About 300,000 trees have been planted and 35,000 tons of CO2² potentially sequestered."